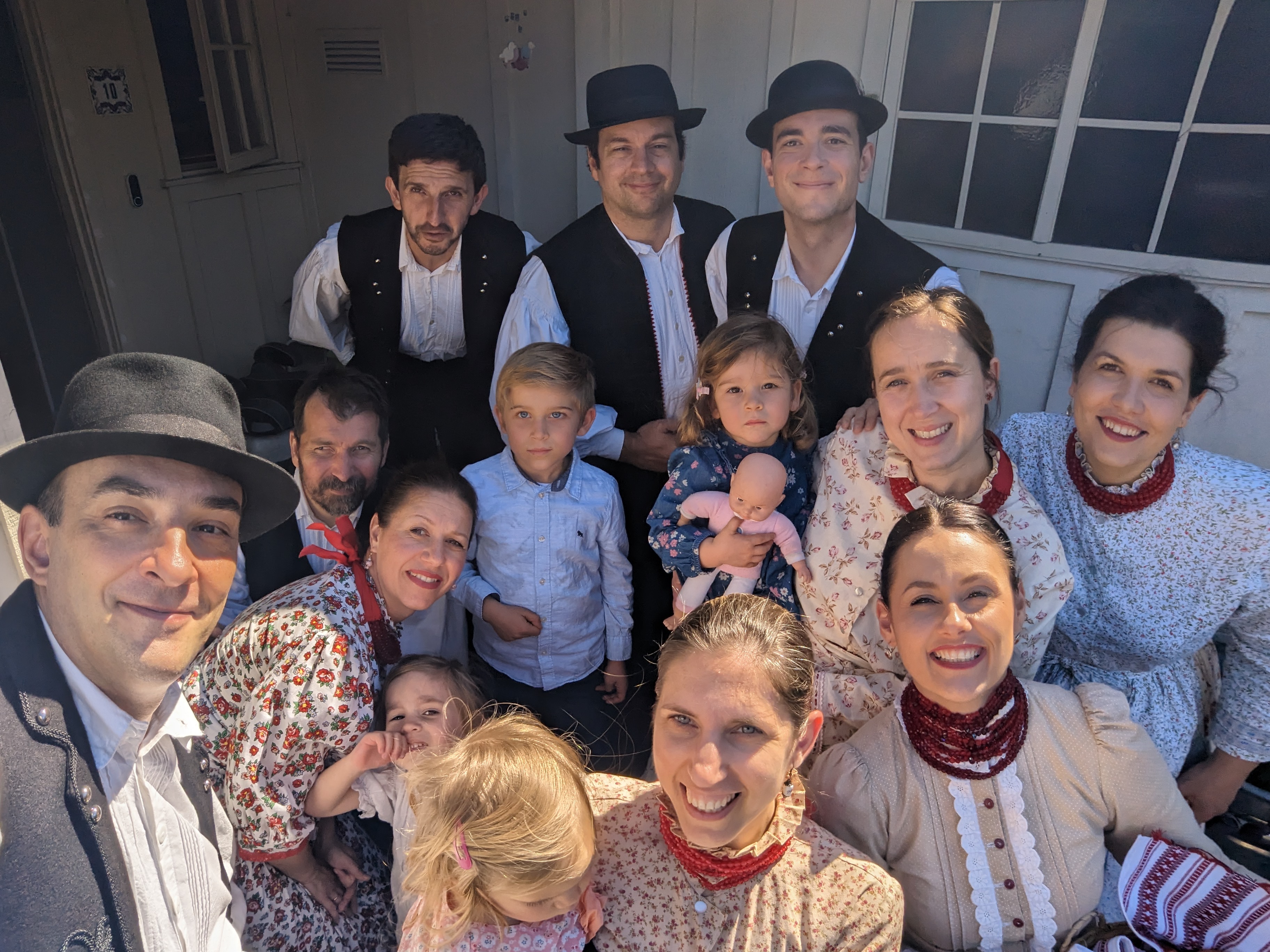 Eszterlánc Hungarian Folk Ensemble
The Eszterlánc Hungarian Folk Ensemble is a performing folk dance group based in the San Francisco Bay Area. Our mission is to promote and present traditional Hungarian folk dances and to preserve the Hungarian folk culture in all its forms.
The Eszterlánc Hungarian Folk Ensemble has been celebrating and showcasing Hungarian folk culture in the Bay Area since its foundation in 1977 through presentations to the Hungarian community and the general public.
The Ensemble consists of twenty to forty young adults ranging from age 14 and up. Most are of Hungarian heritage, although membership has never been limited to those with Hungarian backgrounds. The dancers receive their training in the Ensemble as well as from guest teachers and at workshops statewide.
The community served by Eszterlánc is vast, as appearances include international festivals, social events, patriotic holidays, and ethnic events. The Hungarian community alone, the group's most supportive audience, numbers in the tens of thousands in California. The group has toured California including Los Angeles and Sacramento, and they performed even as far as Vancouver, B.C.
Upcoming Hungarian Folk Dance performances
Eszterlánc has performances serving the community frequently.
Check https://eszterlanc.com and our Facebook for our upcoming performances!
Interested in dancing with us?
Join us! Practices are open to everyone.
Practices are held every week at the CY Dance Works, 25 37th Ave, San Mateo, CA 94403 on Friday nights from 7:30pm to 10:30pm. Please e-mail us to make sure a practice is being held, as we occasionally skip a week. See the Contact Us page for a map!
Board of directors
as of  June 17, 2023
| | |
| --- | --- |
| Attila L. Egyedi | Managing Director |
| Victoria Szabo | Secretary |
| Szonja Vajda | Treasurer |
| Viktória Kovács | Artistic Director |
| Magdolna Ordasi | Controller |
| Réka Kovács | Board Member |
before 2023-07-17
| | |
| --- | --- |
| Szonja Vajda | Managing Director |
| Victoria Szabo | Secretary |
| Attila L. Egyedi | Treasurer |
| Viktória Kovács | Artistic Director |
| Magdolna Ordasi | Controller |
| Réka Kovács | Board Member |